Transom windows: a useful design element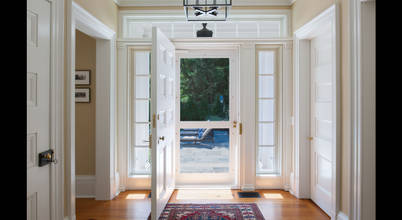 Video of Transom windows: a useful design element
There are indeed very few architectural structures & details that have survived centuries of technological advancements & passing trends like transoms have. Whether it is transom windows over doors or other windows, this style has survived since its introduction in 14th century Europe when homeowners appreciated that an opening over an entrance would be high enough to avoid any prying eyes while allowing for a glimpse of the sky & some fresh air. Improvement in style & functionality came about with the development of leaded glass followed by sheet glass as well as hinges & iron bars to make it easier to operate the windows. Although transoms were out of fashion in the 1970s & 1980s, present day home-owners are rediscovering how these windows help inject an original touch to a space alongside adding in a little more natural light.
Starting cost for transoms is under US$100 for non-operable vinyl, aluminum or wood frames, and it gets pricier for operable or intricately designed ones. In some models, cladding is offered over a wood frame- this adds to the cost of exterior transoms AND also to essential weatherproofing; these oftentimes boast of a better quality and can go upto hundreds of dollars. For new residential constructions, it is not unusual to pay in thousands for a design which includes a door, sidelights & transom- all within a single sealed unit. 
Though installation varies according to the door & ceiling height, interior/ exterior wall, and weight-bearing scenario, the standard procedure for incorporating a transom is to do away with the drywall and/or exterior cladding above the door, and then remove a section of wall studs so as to re-frame that very section for accommodating the new addition. Once the window is set, a new drywall is installed on that section. For an exterior wall, the exterior cladding is then replaced. The last step is to install the window trim. It is important to make sure that the transom window is a structural fit to your home and not simply an unsightly decorative piece. High ceilings are more suited to transoms as compared to the standard 8 foot ceilings, although a couple of narrow window models may fit in over doorways in the typical non-load bearing interior partition walls. But, it is crucial to carefully determine the rough-in framing space needed for that specific model. Load bearing walls may need opening up of the entire wall section to change the framing & add more structural support, so it is advisable to seek professional help in choosing a transom window for an existing wall. Once you know the style & specifications of transoms most suited for your home, you can customize it further to your preferences.
Want something more for your windows? Here are some innovative ideas. And if you are looking for some professional guidance on home inspiration, homify free consultation is where you will find all your answers!
Transom Windows: A Useful Design Element
Rosa Beltran Design: TRANSOM WINDOWS IN ARCHITECTURE
Transom Window Over Five-panel Door With Opening Mechanism
Transom Windows: Why Use Them
Transom Windows: Where Are They Used And Why?
Naomi Judd's Home, Naomi Judd Loves To Use Stained Glass
10 Examples Of Colored Glass Found In Modern Architecture
Transom Windows And Where To Use Them
Best 25+ French Doors Patio Ideas On Pinterest
2017 Newburyport Kitchen Tour, Pt. 1 And The Case Of The
Plexiglass Windows Vs Glass Windows For Commercial Use
Week 4, Term- Rhythm Through Transition. This Term Is Used
Set Window, Glass, Frame Stock Vector. Illustration Of
Charming South Carolina House Mixes Contemporary And
Window On The Lake By YH2, Quebec
Davis Hawn Lumber Co.
Transom (architectural)
Best 25+ Transom Window Treatments Ideas On Pinterest
Try Custom Window Film On A Glass Partition In Your Home
Vertical Story-high Glass Panels
11 Window Styles For New Homes [Window Style Guide Photos
Leaded Glass Window. Good Idea For Bathroom; Get The Light
Industrial Modern Essential Style Elements
1895 Cast Iron Beaux Arts Bank Windows With Transom Lights
Serving Houston Since 1962 - LEADED GLASS
No Glue Stati Cling Stone Design Window Glass Film Sticker
Picture Perfect Lake Cottage With A Touch Of Modern
17 Best Images About Doors By Design
40 Rooms With Remarkable Stained Glass Windows
This Is A Closed Back Window. It Has Art Elements Of
6 Ways To Bring More Sunlight Into A Room
Neon Tinted Windows Photo By Felix Dubois-Robert
How To Properly Clean Fragile Floors
Copper Is A Design Element Found Throughout This New
Check Out This Cool Periodic Table Of Elements Done
Types Of Windows That You Can Use
Frank Lloyd Wright DD Martin House Art Glass Triple Tree
Office Layout Plans Solution
Saving Energy With Smart Facades
Interior Design Inspiration: Tableaux® Faux Iron
Replacement Of Glass, Car Service Vector Illustration In
Gothic Architecture: Key Elements Of The Style
Design Elements - Doors And Windows
Oracle BrandVoice: How Pella Bounced Back From The Housing
Microsoft's Windows 10 Design Refresh Revealed In Leaked
Transom Windows Above Garage Doors ALL ABOUT HOUSE DESIGN
Stained Glass Windows
Architectural Design Elements Of Modern Home Is CUBE
Craftsman Bungalow Home Style Exterior Window Door Details
12 Front Door Curtains Ideas As An Elements Of Decoration
Best Design Aluminum Operable Transom Window
Ways To Bring Natural Elements Into Your Interior
Geometric Simple Black And White Minimalistic Pattern
Architectural References
Windows And Doors
Windsor House, HK Good Idea To Use Glass Smoke Barrier As
Closed Window Stock Vector. Illustration Of Design, Frame
Decorative Frank Lloyd Wright Designed Laser Cut Wood
Diagram Showing Elements Of Traditional Shopfront
Important And Useful Tips
Adshel Character Wall Great Use Of Color To
Glassworks Studio: Evolution Of Design At The Studio This
Cast Iron Frame Windows Or Doors With Transom And Side
The New Architecture Of Merchants Square : The Colonial
The Teachers House / Element Arkitekter AS
Garage Doors With Transom Windows Over
Isolated Reflector Icon. Glass Vector Element Can Be Used
Blue Frosted Glass Texture And Background For Use As A Web
Used Commercial Glass Entry Doors /french Doors/ Front
Professional Landscape Design
Stained Glass Images On Pinterest
Glass Box Home Blends Audacious Design With Innovative
Modern French Door With Solid Steel Thin Frame For Easily
Stained Glass Style Vinyl Decal
25+ Best Ideas About Privacy Window Film On Pinterest
The Helpful Art Teacher: Elements Of Art And Principles Of
Tracery Is An Architectural Term Used Primarily To
32 Best Shabby Chic Living Room Decor Ideas And Designs
Used Church Items
Window Replacement & Installation Northern Virginia
Basic Elements Of Passive Solar Design
Window Graphics & Window Manifestation
Great Glass And Steel Divider Wall. Idea- Use To Separate
» 5 Modern Front Doors For 2016
Design Showcase: Incorporating Salvaged Glass
Hospitality - Interior Elements
Angel Gilding Is A Decorative Element Used In Chicago
Westosha Art: A Brief History Of The Elements And
PVC Casement Fixed Casement Windows With Grill Design,pvc
Sliding Minimal Windows And Fixed Structural Elements
Interior Walls
Simple Geometric Mandala. Stock Vector. Illustration Of
17 Best Ideas About Transom Window Treatments On Pinterest
Frameless Clerestory Windows
Stained Glass Paintings, Designs To Impress And Style
New, Custom & Replacement
17+ Best Images About Glass Kitchen Cabinet Inserts On
Use Obscure Glass For Privacy In Bathroom. Arched
Reception No Glass...
30 Ideas To Use Glass In Modern House Exterior And
Essence Series® Wood Windows
[Design Drawing, Color Rendering Showing Architectural
Spanish Style Wrought Iron Window Grills
Set Of Isolated House Window Frames. Wood Old Window Frame
Huge Ornate Bronze Palladian Window Transom
Environmental Design: APPLE Store Window Display
Pros, Cons, Comparisons And Costs
Deisgner Windows - Gothic Arches
Architecture And Design Elements
Church Stained Glass Gothic Windows Vector Stock Vector
Church Stained Glass Gothic Window Vector Stock Vector
Wikipedia
Design Elements - Toolbars